Ali Baba and the Forty Thieves (1944)
Orphaned as a young child and adopted by a band of notorious thieves, now-grown Ali Baba sets out to avenge his father's murder, reclaim the royal throne, and rescue his beloved Amara from the iron fist of his treacherous enemy.
Ali Baba And The Forty Thieves were released on 1944-01-14. This movie has no tagline. This movie rated with family friendly movie, since it has no adult content on it. Original title: "Ali Baba and the Forty Thieves". There is no detailed info about movie revenue so far. There is no info about Ali Baba and the Forty Thieves budget. Spoken languages available for this movie are: English, Deutsch, Movie genres: Action, Movie genres: Adventure, Movie genres: Fantasy, Movie genres: Romance, To ensure validity, this data is updated once a month, and is last updated on 00:23 / 03 Feb 2016. This movie produced by these companies: Universal Pictures,
Backdrops / Wallpapers
Click to download the Ali Baba and the Forty Thieves HD wallpaper.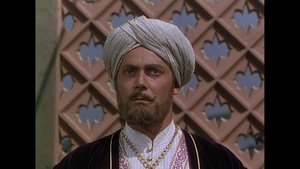 ---
More Related Videos
Reviews
There is no review for this movie yet!.
Movie Casts
| Photo Profile | Name | Character |
| --- | --- | --- |
| | Maria Montez | Amara |
| | Jon Hall | Ali Baba |
| | Turhan Bey | Jamiel |
| | Andy Devine | Abdullah |
| Photo N/A | Kurt Katch | Hulagu Khan |
| | Frank Puglia | Prince Cassim |
| | Fortunio Bonanova | Old Baba |
| | Moroni Olsen | Caliph Hassan |
| | Ramsay Ames | Nalu |
| | Chris-Pin Martin | Fat Thief |
| | Scotty Beckett | Ali Baba as a Child |
| | Yvette Duguay | Amara as a Girl |
| Photo N/A | Noel Cravat | Mongol Captain |
| | Jimmy Conlin | Little Thief |
| | Harry Cording | Mahmoud |
Movie Crews
| Photo Profile | Name | Department | Job |
| --- | --- | --- | --- |
| Photo N/A | George Robinson | Camera | Director of Photography |
| Photo N/A | W. Howard Greene | Camera | Director of Photography |
| | Arthur Lubin | Directing | Director |
| Photo N/A | Edmund L. Hartmann | Writing | Screenplay |
| Photo N/A | Paul Malvern | Production | Producer |
| Photo N/A | Jack J. Gross | Production | Executive Producer |
| Photo N/A | Edward Ward | Sound | Original Music Composer |
| Photo N/A | Russell F. Schoengarth | Editing | Editor |
Related Movies