Che: Part One (2008)
The Argentine, begins as Che and a band of Cuban exiles (led by Fidel Castro) reach the Cuban shore from Mexico in 1956. Within two years, they mobilized popular support and an army and toppled the U.S.-friendly regime of dictator Fulgencio Batista.
Che: Part One were released on 2008-05-21. This movie taglined with "The revolution made him a legend." This movie rated with family friendly movie, since it has no adult content on it. Original title: "Che: Part One". There is no detailed info about movie revenue so far. Production budget of Che: Part One around $30000000. Spoken languages available for this movie are: English, Movie genres: Drama, Movie genres: History, Movie genres: War, To ensure validity, this data is updated once a month, and is last updated on 08:39 / 10 Feb 2016. This movie produced by these companies: Wild Bunch, Telecinco, Laura Bickford Productions, Morena Films, Ministerio de Cultura, Guerrilla Films, Section Eight Productions,
Backdrops / Wallpapers
Click to download the Che: Part One HD wallpaper.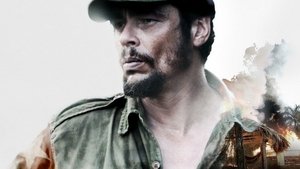 ---
More Related Videos
Reviews
There is no review for this movie yet!.
Movie Casts
| Photo Profile | Name | Character |
| --- | --- | --- |
| | Benicio del Toro | Ernesto Che Guevara |
| | Demián Bichir | Fidel Castro |
| | Rodrigo Santoro | Raúl Castro |
| | Santiago Cabrera | Camilo Cienfuegos |
| | Julia Ormond | Lisa Howard |
| | Ramon Fernandez | Hector |
| | Oscar Isaac | U.N. Interpreter |
| | María Isabel Díaz | María Antonia |
| | Yul Vazquez | Alejandro Ramirez |
| Photo N/A | Jose Caro | Esteban |
| Photo N/A | Pedro Adorno | Epifanío Díaz |
| | Jsu Garcia | Jorge Sotus |
| | Marisé Alvarez | Vilma Espín |
| | Elvira Mínguez | Celia Sánchez |
| | Unax Ugalde | Vaquerito |
| Photo N/A | Andres Munar | Joel Iglesias Leyva |
| | Miguel Ángel Suárez | Army Doctor |
| | Alfredo De Quesada | Israel Pardo |
| | Roberto Urbina | Guile Pardo |
| | Monique Gabriela Curnen | Secretary |
| | Sam Robards | Tad Szulc |
Movie Crews
| Photo Profile | Name | Department | Job |
| --- | --- | --- | --- |
| | Steven Soderbergh | Directing | Director |
| Photo N/A | Peter Buchman | Writing | Screenplay |
| Photo N/A | Ernesto 'Che' Guevara | Writing | Author |
| Photo N/A | Laura Bickford | Production | Producer |
| | Benicio del Toro | Production | Producer |
| Photo N/A | Pilar Benito | Production | Producer |
| Photo N/A | Silvana Paternostro | Production | Producer |
| Photo N/A | Belén Atienza | Production | Executive Producer |
| Photo N/A | Álvaro Augustín | Production | Executive Producer |
| Photo N/A | Frederic W. Brost | Production | Executive Producer |
| Photo N/A | Brahim Chioua | Production | Executive Producer |
| Photo N/A | Philip Elway | Production | Executive Producer |
| | Gregory Jacobs | Production | Executive Producer |
| Photo N/A | Álvaro Longoria | Production | Executive Producer |
| Photo N/A | Vincent Maraval | Production | Executive Producer |
| Photo N/A | Celia D. Costas | Production | Line Producer |
| Photo N/A | Anna Roth | Production | Line Producer |
| Photo N/A | Cristina Zumárraga | Production | Line Producer |
| | Alberto Iglesias | Sound | Original Music Composer |
| Photo N/A | Pablo Zumárraga | Editing | Editor |
| Photo N/A | Rodrigo Bellott | Production | Casting |
| Photo N/A | J.C. Cantu | Production | Casting |
| | Mary Vernieu | Production | Casting |
| Photo N/A | Antxón Gómez | Art | Production Design |
| Photo N/A | Laia Colet | Art | Art Direction |
| Photo N/A | Tommy Allen | Crew | Property Master |
| | Steven Soderbergh | Camera | Director of Photography |
| Photo N/A | Bina Daigeler | Costume & Make-Up | Costume Design |
| Photo N/A | Pilar Revuelta | Art | Set Decoration |
| Photo N/A | Katherine James | Costume & Make-Up | Makeup Department Head |
| Photo N/A | Roberto Bonelli | Art | Set Designer |
| Photo N/A | Charlie Bonilla | Art | Construction Foreman |
| Photo N/A | Roxana Chapela | Art | Construction Coordinator |
| Photo N/A | Juan Manuel de la Fuente | Art | Greensman |
| Photo N/A | Carlos Gamboa | Art | Set Designer |
| Photo N/A | Juan Guallini Indij | Art | Greensman |
| Photo N/A | Andrew Petrotta | Crew | Property Master |
| Photo N/A | Ed Arenas | Production | Casting |
| Photo N/A | Raquel Medina | Art | Art Department Coordinator |
| Photo N/A | Kevin Hannigan | Crew | Special Effects Coordinator |
| Photo N/A | Jesus G. Duran | Crew | Special Effects Coordinator |
| Photo N/A | Úrsula García | Visual Effects | Visual Effects Producer |
| Photo N/A | Rafa Solorzano | Visual Effects | Visual Effects Supervisor |
| Photo N/A | Eva Leira | Production | Casting |
| Photo N/A | Gladyris Silva | Costume & Make-Up | Costume Supervisor |
| Photo N/A | Shane Greedy | Crew | Transportation Coordinator |
| Photo N/A | Luis A. Jurado | Crew | Transportation Captain |
| Photo N/A | Josiuan Rojas | Crew | Transportation Coordinator |
| Photo N/A | Mike Chock | Sound | Sound Editor |
| Photo N/A | Diego Martinez Rodriguez | Sound | Sound Editor |
| Photo N/A | Antonio Betancourt | Sound | Sound mixer |
| Photo N/A | Gabriel Gutierrez | Sound | Supervising Sound Editor |
| Photo N/A | Mark A. Mangini | Sound | Sound Effects Editor |
| Photo N/A | Larry Blake | Sound | Supervising Sound Editor |
| Photo N/A | Barbara Cantu | Costume & Make-Up | Hairstylist |
| Photo N/A | Gloria Pasqua Casny | Costume & Make-Up | Hairstylist |
| Photo N/A | Tere Chávez | Costume & Make-Up | Hairstylist |
| Photo N/A | Angel De Angelis | Costume & Make-Up | Hairstylist |
| Photo N/A | Belén López-Puigcerver | Costume & Make-Up | Hairstylist |
| Photo N/A | Naomi Donne | Costume & Make-Up | Makeup Artist |
| Photo N/A | Ana López Puigcerver | Costume & Make-Up | Makeup Artist |
| Photo N/A | Raúl Sarmiento | Costume & Make-Up | Makeup Artist |
| Photo N/A | Natasha Ladek | Costume & Make-Up | Wigmaker |
| Photo N/A | Robin Le Chanu | Production | Production Manager |
| Photo N/A | Elena Manrique | Production | Production Manager |
| Photo N/A | Ezra Buenrostro | Art | Assistant Art Director |
| Photo N/A | María Clara Notari | Crew | Supervising Art Director |
| Photo N/A | Lizzie Cuello | Art | Assistant Art Director |
| Photo N/A | Stuart Auld | Crew | Scenic Artist |
| Photo N/A | Diego Martínez | Editing | Dialogue Editor |
| Photo N/A | Óscar Barros | Editing | Dialogue Editor |
| Photo N/A | Martín García Blaya | Editing | Dialogue Editor |
| Photo N/A | Larry Blake | Sound | Sound Re-Recording Mixer |
| Photo N/A | Mark A. Mangini | Sound | Sound Re-Recording Mixer |
| Photo N/A | Jordi Casares | Crew | Stunt Coordinator |
| Photo N/A | G.A. Aguilar | Crew | Stunt Coordinator |
| Photo N/A | Manny Siverio | Crew | Stunt Coordinator |
| Photo N/A | Gary Jay | Camera | Camera Operator |
| Photo N/A | Laura Magruder | Camera | Still Photographer |
| Photo N/A | K.C. Bailey | Camera | Still Photographer |
| Photo N/A | Leslie Colombani | Lighting | Gaffer |
| Photo N/A | Gene Engels | Lighting | Gaffer |
| Photo N/A | Glenn Gregory Krah | Costume & Make-Up | Set Costumer |
| Photo N/A | Ali Lammari | Costume & Make-Up | Set Costumer |
| Photo N/A | Barbara Jean Kearney | Editing | Digital Intermediate |
| Photo N/A | Jimmy Fusil | Editing | Digital Intermediate |
| Photo N/A | Rodrigo Amoroz | Crew | Picture Car Coordinator |
| Photo N/A | Fernando Uriegas | Production | Location Manager |
| Photo N/A | Sofia Tirado | Production | Location Manager |
| Photo N/A | Spooky Stevens | Crew | Unit Publicist |
| Photo N/A | Coraly Santaliz | Directing | Script Supervisor |
| Photo N/A | Pablo Guevara | Crew | Dialect Coach |
Related Movies