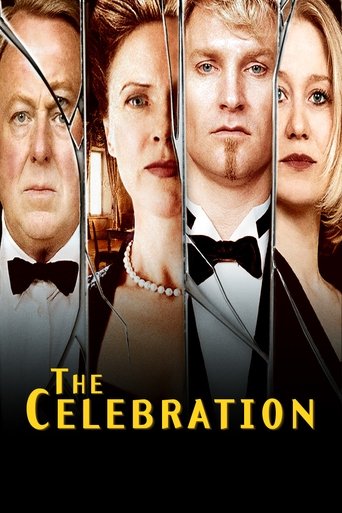 The Celebration (1998)
A Danish film produced in the Dogma style by Thomas Vinterberg that portrays a family having a party for their father when one son makes a toast speech that tells the truth about the murder of their eldest sister possibly involving the father.
The Celebration were released on 1998-05-20. This movie has no tagline. This movie rated with family friendly movie, since it has no adult content on it. Original title: "Festen". There is no detailed info about movie revenue so far. Production budget of The Celebration around $1300000. Spoken languages available for this movie are: Dansk, Deutsch, English, Movie genres: Drama, To ensure validity, this data is updated once a month, and is last updated on 00:11 / 11 Feb 2016. This movie produced by these companies: Nordic Film, Sveriges Television (SVT), Nimbus Film Productions,
Backdrops / Wallpapers
Click to download the The Celebration HD wallpaper.
---
More Related Videos
Reviews
There is no review for this movie yet!.
Movie Casts
| Photo Profile | Name | Character |
| --- | --- | --- |
| | Ulrich Thomsen | Christian Klingenfeldt |
| | Henning Moritzen | Faderen Helge Klingenfeldt |
| | Thomas Bo Larsen | Michael |
| | Paprika Steen | Helene |
| | Birthe Neumann | Moderen |
| | Trine Dyrholm | Pia |
| | Helle Dolleris | Mette |
| | Therese Glahn | Michelle |
| | Klaus Bondam | Toastmasteren |
| | Bjarne Henriksen | Kim |
| Photo N/A | Gbatokai Dakinah | Gbatokai |
| | Lars Brygmann | Receptionisten |
| Photo N/A | Lene Laub Oksen | Linda |
| Photo N/A | Linda Laursen | Birthe |
| Photo N/A | John Boas | Farfar |
| Photo N/A | Erna Boas | Farmor |
| | Thomas Vinterberg | Taxidriver |
| Photo N/A | Kaj Rasmussen | |
| Photo N/A | Robert Strandgård | |
| Photo N/A | Gry Worre Hallberg | |
| Photo N/A | Lasse Lunderskov | Onklen |
Movie Crews
| Photo Profile | Name | Department | Job |
| --- | --- | --- | --- |
| | Thomas Vinterberg | Writing | Screenplay |
| | Thomas Vinterberg | Directing | Director |
| Photo N/A | Mogens Rukov | Writing | Screenplay |
| Photo N/A | Lars Bo Jensen | Sound | Original Music Composer |
| | Anthony Dod Mantle | Camera | Director of Photography |
| Photo N/A | Valdís Óskarsdóttir | Editing | Editor |
| Photo N/A | Marie Louise Hedegaard | Production | Casting |
| Photo N/A | Lene Seested | Production | Casting |
| Photo N/A | Eigil Jacobsen | Crew | Second Unit |
| Photo N/A | Morten Holm | Sound | Sound Designer |
| Photo N/A | Birgitte Hald | Production | Producer |
| Photo N/A | Morten Kaufmann | Production | Line Producer |
Related Movies